by
Today's parents are out and about, and their babies are too. That's why a baby travel system is totally essential to a parent's ability to be busy. The best baby travel system? Depends on your needs.
Here are the Top Travel Systems by category:
Best Travel Systems
These are what I call a regular or traditional travel system- a car seat that clicks down into a 4-wheeled stroller.
Evenflo Pivot Travel System
One of the moms from my son's preschool class had an expensive modular travel system. I would watch her with envy every day as she easily pushed her baby around the school and got in and out of the car. I always wished to find a cheaper option, and finally, I have! The Evenflo Pivot Modular Travel System has everything you could want from the time baby comes home from the hospital until the time you're pushing your preschooler around the zoo. You get a high-quality product that's extremely versatile and comes at a good price. In my humble opinion, this Pivot Travel System is hard to beat.
This travel system features a fantastic car seat: the Evenflo SafeMax Infant Car seat. This car seat works for babies that are 4 to 35 pounds and up to 32 inches tall.
This car seat has actually been modeled after some of the technology from very expensive car seats. Let's start at the base. It's called the SafeZone base and has an anti-rebound bar (similar to some Britax models). This amazing thing is so helpful during an accident. It reduces the amount of movement that can happen after impact. This means that baby stays secure.
You can install the base with Evenflo's very user-friendly latch system. Simply hook on the two lower anchor hooks (with button release!), tighten, and use the integrated belt lock off system to lock the base tightly into place. If you are using the vehicle belt, you'll get just as secure of an installation because of this lock off system.
The base also has recline to get it at the right angle. You can use the built-in knob to adjust the seat until the built-in indicator level is in the right spot. With all these base safety and convenience features, it's almost impossible to install it wrong.
The seat clicks easily into the base and the stroller and has an easy to access release latch on the back of the car seat. It might take you a couple tries to line it up, but once you do, it clicks into the base or stroller tightly.
Safety is most important. Like all Evenflo car seats, this seat has been designed and tested to meet or exceed all US safety standards two times over. It's also got extra rollover and side impact protection to keep baby safe in any scary scenario.
Then there's the comfort features. The SafeMax has lots of padding, including an infant pillow insert, and uses breathable fabrics, so baby stays comfortable. There's a 5 point safety harness that has an easy front adjust and padding, a big 3-panel canopy, and a padded handle for better carrying.
The Stroller: Evenflo Pivot Stroller
The stroller is the main attraction when it comes to this modular travel system. This one stroller actually functions as three different strollers: a baby carriage, an infant stroller, and a toddler stroller.
The Pivot stroller features 6 different ways to ride. How does it do this? Well, within the three different modes that I just mentioned, you can have the baby facing you or facing the world.
That means that as a baby carriage, which is probably the first mode you'll use, you can have the baby bassinet facing toward you or toward the world.
This is not a totally unique feature but there aren't that many bassinet stroller travel systems. 
Then when you have a toddler on your hands, You can put them in the toddler seat, complete with padded harness, reclinable seat, and huge canopy with peek-a-boo window. You'll have a convenient snack holder for baby too.
(I love seats that can face both ways! Check out my Urbini Reversi review for another great travel system that has a flippable seat.)
But do you want to hear the best part? The toddler seat and the baby carriage are the same piece of gear. You can convert it from one into the other with just a buckle and a strap. It works as a seat until baby reaches 50 pounds.
Finally, there is frame stroller or infant stroller mode. This is when you detach all seats from the stroller frame and use the frame itself to carry the SafeMax car seat. You can attach the car seat so that it faces you or so that it faces away from you. No adapters needed– it simply attaches to the frame itself on the sides.
The Pivot stroller is foldable. All you do is click the button on the sides of the frame, and the frame folds in half on itself. It can be folded with the toddler seat on, or when its just the frame alone. It is then pretty flat and easy to load into a trunk. It weighs in at about 15 pounds, so it's not terribly heavy to fold and move. Maneuverability is nice, with front swivel wheels that are nice and thick. The back wheels feature a two-step (aka not linked) braking system.
Besides the amazing versatility and easy use of the stroller, you're going to get a stroller that has very stylish design.  Anyone looking at this stroller would have no idea that it's an Evenflo. It honestly looks like an expensive boutique purchase.
The Pivot stroller has a large 3 panel canopy with a peek-a-boo window. The storage basket at the bottom has ample room and can be accessed from both the front and the back. There is a simple parent cup holder that can be placed anywhere on the handle, as well as a removable child snack tray with drink holder. Add in the thick seat, the padded safety harness, and all the way flat recline, and this stroller has everything you're going to want at any age or stage.
Why It Won
There are a lot of parents out there who think that a fancy name and a big price tag makes for a great travel system. And although Evenflo has been around for a long time and some people don't consider it fancy enough, they make some great travel systems.
The Pivot travel system is absolutely incredible. I just can't say it enough! It's amazingly easy to put together. You can switch from one mode to the other very easily and you don't have to use any special adapters or tools to do so.
The best lightweight travel system stroller:
The stroller itself is very lightweight, which makes it so easy to maneuver. Those front wheels really are easy to turn. The size of the wheels is good and means that they'll hold up over time. I do wish the frame and wheels were a bit more narrow, because while it moves easy, it takes up a lot of space and can't turn on a dime due to the sheer size.
The storage basket on the Pivot is wonderful. It is large enough to actually fit a diaper bag or other large bag. And the fact that you can get to it from the front is amazing! No need to circle around to grab a snack when you are up front talking to your kiddo.
I know you are thinking that besides the big canopy and the storage basket, this system has no bells and whistles. And you know what? I love that about it. It's simple and sleek. You don't have a ton of storage, but there is space for everything you need. It has a good frame that's light and easy to fold, a multi-tasking baby and toddler seat, and good wheels for a very reasonable price. Plus it's comfortable for your kiddo. What else could you need?
No travel system is perfect. There are a few small hiccups to be aware of.
The first thing is that when you have the stroller and seat completely assembled, it is a bit bulkier than some people expect. This is still true when it's folded. It'll be a flat fold, but it will need a lot of square footage in your trunk.
The other thing that could use improvement are the wheels. Like all 4 wheeled strollers, the front wheels like to get stuck or move independently, making maneuvering a challenge at times. It's a struggle for most strollers out there, and this one is no exception.
My final complaint: you can't do anything one handed. Folding, unfolding, buckling, unbuckling- it all requires two hands. And for this busy parent, that can be tough. It would be nice if I could at least unfold it with one hand, or unbuckle it with one hand.
Chicco Bravo Trio Travel System
Chicco Bravo Trio Travel System
Chicco makes some top quality car seats. Their safety, style, and ease of use is wonderful. But when it comes to this travel system, which I've had the pleasure of actually using for my nephew, I just don't like it as much as the Evenflo Pivot. The Chicco travel system is high quality and really is a very close runner-up, mostly because of the safety and quality aspect.
The Seat: Chicco KeyFit 30
The seat included with this travel system is the Chicco KeyFit 30 car seat. This car seat is one of the safest on the market. It meets or exceeds all safety standards and also has EPS foam and a contoured shell for outstanding protection in an accident.
The included base has latch connectors and an easy tightening system to make sure that it's installed properly. It does have clear belt routing and integrated lock-offs to install it easily without the base in place.
This car seat can hold an infant from 4 to 30 pounds and up to 30 inches in height. These limitations are a bit smaller than those of the Evenflo SafeMax car seat. It has a newborn head and body support, which is just as nice as the one in the Evenflo car seat. It also has a nice, large canopy, and it's easy to tighten and adjust five point safety harness. It's also easy to clean.
This seat is also relatively narrow. If you have multiple kids and need a narrow seat there are quite a few good options.
The Stroller
They call this the Bravo Trio system because it has a trio of modes for use. The first mode, just like the Evenflo, is a car seat carrier. You can completely remove the seat, footrest, and canopy of the stroller to have just a frame to attach the car seat carrier. You do have to have the adapter, which is included when you purchase the travel system, in place to be able to click the KeyFit 30 car seat into place.
The next mode is a travel system mode, where you can have the Bravo stroller with the adapter for the car seat. This allows the baby to either sit in the car seat or sit in the stroller, as long as you remember to bring the adapter with you.
The final mode is the toddler stroller, or just the regular Bravo stroller. In this mode, the stroller can hold a child up to 50 pounds, just like the Evenflo Pivot stroller.
Besides these modes, the stroller features a lot of great attributes. It has a multi-position recliner for the back of the seat. It has an extra large canopy with a peek-a-boo window. There's a fantastic folding system that can be done one-handed. You just grab the handle under the seat and pull it up, then the auto-swivel wheels rotate inward automatically, and the stroller folds to a small and compact standing form. It's basically foolproof.
The brakes of the all wheel suspension stroller are linked, which means that braking one wheel in the back will also brake the other wheel. I feel like this is a nicer braking system than the one on the Evenflo because it's a one-step system versus a two-step system. This stroller has two front wheels that can be swiveled or locked into place as you need.
The Bravo Trio stroller does weigh a bit more than the Pivot stroller, weighing in at about 23 pounds. To finish out, the stroller also features a very large storage basket that's easy to access in any mode, a small parent tray with two cup holders, and a 3-position adjustable push handle.
Want to see this 4 wheeled stroller go head-to-head with the 3 wheeled Britax B-Agile? We've got a Chicco Bravo Trio vs. Britax B Agile & B Safe 35 comparison just for you!
Evenflo Pivot vs Chicco Bravo Trio Compared
The Chicco Bravo Trio travel system is really similar to the Evenflo Pivot travel system. Chicco is a higher-end brand than Evenflo, and some may say that they make a higher quality product. However, there were just a couple of deal-breakers with the Chicco system that I felt made it slightly less convenient than the Evenflo travel system.
The first thing about this system that is a no-go for me is the price. It's roughly quite a bit more than the Evenflo Pivot system, and it doesn't do anything more special than the Pivot. I also feel like it's not that much of a higher-quality over Evenflo to justify an extra hundred dollars.
The next thing I don't like about this system is that you can't face the seat of the stroller towards you. Now, when the Chicco is an infant carrier you can face it towards you, but you can't face it away. When using it as a travel system, you can face it towards you, but not away from you. And as for the stroller, it faces toward the world only. So you definitely get a few less ways to travel versus the Evenflo.
Another thing that was frustrating to me was that you need the car seat adapter to be able to use it as a travel system. Now, you could argue that the only difference between this adapter and the Evenflo adapter is that the Evenflo adapter is actually a padded bar with removeable snack tray. And you're exactly right. That's why I like it better. The adapter on the Evenflo does double duty as a snack tray. This Chicco Bravo stroller doesn't have a snack tray at all. It has a small adapter that I feel like I would constantly be losing in the recesses of my trunk.
I do feel like the Chicco Bravo Trio travel system is maybe a bit sturdier than the Evenflo. It seems like it's built with heavier and perhaps higher-quality materials. It also has more storage, since it has the parent snack tray. It also has an adjustable handle, which is nice.
I do prefer the braking system for the Chicco over the single brakes on the Evenflo. I know this is a small thing, but linked brakes are just so much nicer and make stopping and starting a smoother process.
The colors make both of these gender neutral travel systems.
Now, if they were the same price, I think maybe the Chicco would win, mostly because it has that fantastic one handed fold and a little more storage for the parents. But because of the price difference and fewer ways to ride, the Evenflo Pivot is my pick for best regular/traditional travel system.
Britax B Agile & B Safe 35 Travel System
Here is the best 3-wheeled stroller, travel system. The Britax B Agile & B Safe 35 Travel System 3-wheeled strollers are designed to be lighter, smaller, and more agile than their 4-wheeled counterparts.
I will be honest with you: this travel system won because of the car seat. Britax car seats are some of the safest on the market. They are well thought-out in their design and well-made with their materials. The B Agile stroller was made with the same attention to detail and quality. I haven't had the pleasure of using this exact system myself, but I can tell you that thousands (okay, maybe hundreds) of parents swear by this system and this company alone.  And with a 1 year warranty on the car seat and a 2 year warranty on the stroller, you can see why.
The Car Seat: Britax B Safe 35
The seat included with this travel system is the Britax B Safe 35 Infant Car Seat. This seat will hold an infant from 4 to 45 pounds and 32 inches tall or shorter. For the smaller babes, it has a lovely head and body cushion that's removable as baby grows.
But let's talk about safety, baby. The B Safe 35 meets or exceeds all US safety standards. This car seat features Britax's SafeCell impact protection. This little network of plastic honeycombs inside the base and the car seat itself does wonders for absorbing energy in a crash. The car seat was also designed with a steel frame to help stabilize the car seat at the connection point to the vehicle, which is where the most durability is needed. The car seat also has a wonderful contoured shell design. Not only does this make it smaller in your vehicle, but it also helps the car seat to move around less and also offers deep side impact protection.
The base has SafeCell impact protection, and it also has the SafeCenter latch feature. This is a set of center pull straps that make tightening the base in the car a cinch. The latch connectors are created with an on/off button that allows you to make placing and releasing the anchors very easy as well. It also features built-in lock offs for when you want to use your car seat belt to install it.
The B Safe 35 also features a quick-adjust harness. This allows you to move the safety harness and the headrest up as your child grows. You simply remove a lever and the entire headrest and shoulder strap system moves upward. There's no need to rethread straps every time you need to make an adjustment.
Extras: In addition to the wonderful safety features, this car seat has perks like an extra large canopy, spring-assisted recline, and ergonomic handle for comfortable caring, and a extra-padded 5 point safety harness. And as an added bonus, you can use this car seat with any Britax stroller, just in case you buy an additional one or buy a different one later.
The Stroller: Britax B Agile
The B Agile is a high-quality and lightweight stroller. It's got a lightweight aluminum frame, weighing in at only 16 pounds. That makes the stroller both easy to carry and easy to push. All-wheel suspension and a swivel front wheel give you additional ease of movement and a really tight turning radius. You can easily hit the brakes by using the linked parking brake. That will stop both rear wheels with just one push of the toe.
The stroller is both fast and easy to fold. You can do it with one hand, and it folds to be very compact. It has a frame lock that'll keep the stroller together while traveling or while in storage.
Additional features include an extra large canopy with the ventilation window/peek-a-boo window and UV 50+ sun protection, a huge under seat storage compartment and an additional zippered pocket, a reclinable seat that can even adjust to be all the way flat for an infant, and a very padded and comfortable 5-point harness.
The click and go capabilities of the stroller mean that you can attach any other Britax car seat, as long as you have the adapters. It does require 2 tower adapters, which are 2 small plastic pieces, to get the car seat to click in. This personally isn't my favorite way to click a car seat into a stroller, but it does work. Just come up with a smart system of keeping the adapters with the stroller so you don't lose them.
Britax now makes the B-Lively stroller, which can be used as a replacement for the B-Agile in a Britax travel system. To see all it's great features, read our Britax B-Lively review.
Or, if you prefer a 4 wheeled stroller, but love the Britax brand, check out the Britax Pathway stroller review from Experienced Mommy.
Why It Won
In case you didn't quite catch it, Britax makes safe car seats. That's the biggest driving factor behind me choosing this as my favorite 3-wheeled travel system.
The car seat really is fantastic. I personally like the way it's designed to be narrow and more compact, but this does have one downside. It does mean if you have a chunky little monkey for a baby, they might start to get a little bit cozy in this car seat sooner than you think. But for most kids, it will definitely get them through that first year until you want to put them in a convertible car seat.
The steel frame of the car seat does make it a bit heavy to carry around. It weighs roughly about 10 pounds without the baby in it, so as baby gets older and you have to haul the car seat to and from the house, it gets to be quite the workout. But I am willing to sacrifice a few pounds of weight for a steel-integrated frame that keeps baby safe in the car.
The stroller is wonderful too. I almost don't have any complaints about the stroller. It maneuvers like a dream, it's easy to fold with one hand, push with one hand, and even carry with one hand. The canopy is huge and the peekaboo window is so awesome for me to spy on my little baby. The reclining feature is great, since you can recline the seat all the way back to make it completely flat for an infant if you don't want to haul around the car seat.
No storage: Here's the one complaint I do have about the stroller: it doesn't have any storage. Now, the under seat storage bin is huge, and there's another little zipper compartment that adds a little extra storage too. But, this thing doesn't have any storage for the parents near the handle, and it doesn't have any snack tray or storage tray for baby. You can purchase accessories like the parent stroller organizer or an attachable snack tray separately, but when you're already spending a hefty amount of money for a travel system, you would hope those things would be included.
So what else should you be aware of? One thing to keep in mind is the fact that Britax products do have recalls occasionally. The chest clip on the car seat in the stroller comes to mind, as it was just recently recalled. Be aware that many parents have complained that the stroller adapters and other small plastic pieces can break down over time and become frail. Some parents complain that these parts have even broken on them. So if you purchase a system, just be aware of any recalls and any issues and be in touch with the manufacturer regarding them.
Probably a big deterrent for a lot of parents is the price of this travel system. It is almost double what some of the other travel systems on the market cost. But, when you buy this car seat and stroller combo, you are paying for smart design, ease-of-use, and a durable and sturdy product that's going to last you for many years and probably will survive a couple of kids.
Despite these few flaws, the Britax B Agile and B safe travel system is the hands-down winner. It's the most lightweight, it has the best suspension and wheel system, and it has one of the best infant car seats on the market bar none. If the travel system has enough going for it that all of these negative features (which are features that would usually rule out buying a stroller or car seat for me) are canceled out by the fantastic-ness of this system, that should tell you a lot about how much you will love this Britax travel system!
Chicco Viaro Travel System
The Chicco Viaro travel system has a lot of fantastic features. The quality is right on par with the Britax system, and it has a lot of fun and useful features for parents. It has a lightweight design with a ton of perks, like the incomparable folding feature. It also comes with one of the nicest and safest car seats on the market. See our full review of the Chicco Viaro Travel System.
This Chicco travel system comes with the KeyFit 30 infant car seat. Let's get some quick stats on this car seat:
For babies 4 to 30 pounds and up to 30 inches
Meets or exceeds all safety standards
Deep, contoured shell design
EPS foam lining
Base has button release latch connectors and SuperCinch easy belt tightening
Integrated lockoffs and clear belt routing for use with vehicle belt
Newborn support pillow
Large canopy
5 point safety harness with padding and easy tightening
The Chicco Viaro stroller is a lightweight and sleek stroller. It weighs only 18 pounds, which is a good deal heavier than the B Agile. The 3-wheel design makes it just as easily maneuverable and easily pushable as the B Agile. The nice suspension gives a smooth ride for baby.
The front wheel swivels to allow for better movement and a tight turning radius. However, the plastic wheels don't seem as durable as the wheels on the B Agile. The wheels are thin and soft and get peppered by rocks or gravel. At 7 inches for the front wheel and 8.75 inches for the back wheels, they're big enough to tackle a lot of terrain.
It has a two-step braking system. This means that you have individual toe top brakes to lock the back wheels individually. This makes quick stops easy, but it requires more effort and isn't foot friendly.
The fold on the stroller is fantastic. It's my favorite feature. It's a truly one handed fold. All you do is push a release button under the seat of the stroller, pull up on the strap, and you have a compact and self-standing folded stroller. It doesn't lock once folded, so you have to be careful when getting it in and out of the trunk. The perk of it not locking is that you can reopen the stroller quickly and easily with just one hand as well. Just pull up on the handle and click it open.
Chicco claims that this is their most lightweight stroller. And even though it's light, it can still hold a child up to 50 pounds. The multi-position backrest (which unfortunately can't lie flat) and the adjustable 5 point safety harness easily grow with your child for many years of use.
The stroller features an extra large canopy. It's made from a thick and sturdy material that shades the baby well. And the best part is that it can completely shade the baby when used with the KeyFit Car Seat. This protects baby from nosy people and hot sun alike! I do wish that the canopy had a spy window, since it's so big and blocks the parent's view of baby.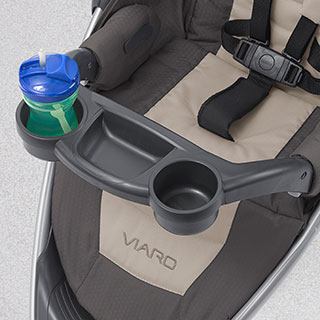 This stroller features great storage for being so sleek. There's a parent storage area on the push handle with two cup holders and a middle tray. There's a child snack tray with two cup holders and a place for food. The bottom storage basket is wonderful. It's deep and big. It can also be accessed from the rear, like a normal stroller, or it can be accessed from the front by lifting up the seat's footrest. I like this added convenience.
We've talked about both the Chicco Bravo and Chicco Viaro strollers as part of travel sytems. Want to know which is best? Read our Chicco Viaro Stroller vs Chicco Bravo Stroller article.
Britax B Agile & B Safe 35 vs Chicco Viaro Compared
For 2 travel systems that are so similar, these 2 are actually quite far apart on a few aspects.
With both of these car seats, the manufacturers have definitely focused more on safety and maneuverability and left out the smaller details. This isn't such a bad thing. With either system, you are going to get one of the safest car seats on the market, since Britax and Chicco consistently dominate the safest car seat lists. You just can't beat that.
I will say that the Chicco car seat isn't as deep as the Britax. This makes it so much easier to get the baby in and out. But I do like the shape of the Britax from a safety standpoint. As for installing the car seats, they are both ridiculously easy to install. They both have easy latch anchors and easy tightening. I believe that the Britax base is better because of the SafeCell technology.
The biggest differences are found in the strollers. My biggest pet peeve with the Viaro is that it doesn't lock when folded. That makes transporting it or moving it such an awkward chore. Add in the fact that it's 2 pounds heavier, and it becomes even more tricky.
Now let's look at the fold itself. The B Agile is easy to fold and so is the Viaro. Both of them are capable of being folded with one hand. But the Viaro allows you to push the button and pull the strap to fold all in the same spot. You don't have to push a button on the side and then grab the middle strap like the B Agile.
The Britax B Agile folds up a bit smaller. I think that this mostly has to do with the fact that it doesn't have the tray. The snack tray that acts as the Viaro's car seat adapter sticks out really far when folded, thus needing a bit more room in the trunk. And if you take it off, you run the risk of losing it and not being able to use the stroller for a travel system.
The Viaro does have better storage. The lower basket is so much larger. Plus, you can access it from rear and from the front, which can be inconvenient with a taller child riding in the stroller, but it's nice when the kids are small. The Viaro has the parent snack tray and the child snack tray included for no extra cost.
For the same price, you'd expect the same quality. But that's not quite true with the Viaro and the B Agile. The Viaro has a few items that seem to be cheaper quality. The wheels are the biggest problem. The Viaro's wheels are cheap- thin and easily bruised and bumped by any little rock in the road. And if you ride on gravel, you'll shred your wheels in no time. The fabric and plastics also feel cheaper and thinner than those on the B Agile.
Chicco certainly has more bells and whistles on their stroller, like I mentioned above. They have much better storage and a slightly easier one handed fold. But the stroller feels a little cheaper and it doesn't lock! Since the Britax car seat has more bells and whistles and is a bit nicer overall, and that's probably more important, the Britax B Agile and B Safe 35 travel system is my winner for the best 3-wheeled travel system.
You can heck out how the B-Agile stacks up against the Chicco Bravo in our Chicco Bravo vs Britax B-Agile article. There's also a head-to head battle of the lightweight B-Agile and City Mini in our Britax B-Agile vs Baby Jogger City Mini review.
Baby Trend Expedition LX Travel System
The best jogger travel system is the Baby Trend Expedition LX Travel System.
See our article comparing all the leading jogging travel systems. And here is the standalone review of the Baby Trend Expedition Travel System.
With my first kid, I didn't know that I couldn't use a 3-wheeled stroller to jog with. Until I tried it. I immediately realized that they make special 3-wheeled strollers designed specifically for jogging for a reason!
My best friend received this car seat and stroller combo at the baby shower for her first baby. She is not a runner or jogger of any kind. I watched her daughter 3 days a week, so I already knew how great the car seat was. I hadn't used the stroller much, but she would always rave about this stroller and how easy it was to use and how nice the ride was. Me, being an avid runner and outdoorswoman, decided to put it to the test one day. With her permission, I strapped my kiddo into her car seat and went for a 2 mile run that encompassed both cement and rock paths. I was not disappointed!
The Car Seat: Baby Trend EZ Flex Loc
The car seat included with this travel system is the Baby Trend EZ Flex Loc infant car seat. This is a top rated infant car seat that's designed to hold a baby between 5 and 30 pounds. It will accommodate your child until they reach 30 inches. It comes with a small and soft head support for those little tiny babies.
Made with EPS foam, it provides superior protection in a car accident. It even has extra padding that helps with side impact protection. It meets or exceeds all safety standards in the US.
It's called EZ Flex Loc because of the latch system that it uses. The base has flexible latch hooks as opposed to rigid, one-piece latch hooks. If you look at the latch connectors, you can see that they're hinged. This means that once they're hooked in, you can adjust the seat to get a secure fit without having to re-attach the anchors.
Besides having the Flex Loc, the base also has a push button that allows you to adjust the height to 4 different positions for correct installation. It even has a level indicator that let you know when you have it at the proper level for installation.
This car seat has a small and lightweight design. It weighs just over 7 1/2, and the car seat is about 16 1/2 inches at its widest spot. This means that it takes up less room in your car and makes it really easy to put more than one car seat in the back of your car. This is definitely a good choice for parents that have to do two or more car seats in the back.
The way that you release this car seat from the base and stroller is unique. Usually, there's a lever at the front of the car seat, behind where the baby's head is, that you will pull to get the car seat to pop out. With this one, it's down by baby's feet. This is both good and bad. It works really well in smaller cars where you don't have a lot of headspace for the car seat, but it does make it tricky because you have to put your hand down between the car seat and the backseat of your vehicle to get the car seat free.
The harness system of this car seat is good, but it can be frustrating. It's a 5 point safety harness with some good qualities. You can adjust the car seats harness straps by simply turning a knob on the back of the car seat. This makes it nice because you won't have to rethread harness straps every time your baby grows. It also has a one-handed release mechanism in the front. The biggest pain about this harness system is that you have to stack the buckles in order to buckle them in.
Finally, the car seat has the delta multi-grip carrying handle. This is a smooth carrying handle with a triangle shape. It's designed to not irritate your arm and make it much easier on your back and arms. I personally love this type of car seat handle, because it makes holding the car seat in both your hands and on your arms a lot easier in nearly any position.
The Stroller: Baby Trend Expedition Jogging Stroller
The Expedition Jogging Stroller is included with this travel system. This stroller is specially designed for running or jogging on nearly any surface. It has 16 inch rear tires that are air-filled bicycle tires. It's got a 12-inch front tire with swivel or locking capabilities. Having it locked is great for going for a run, while being able to swivel will make this stroller be able to go from the trail to the mall in a snap. And having such large, air-filled tires means that you get a smoother ride on any surface. This translates to the stroller gliding more easily during a run so that you don't encounter as much resistance.
This stroller features 3 separate brakes. One brake is on the front wheel that allows it to lock in a straight and non-swiveling position. Both of the back wheels have their own brakes. This is somewhat inconvenient, but it is nice if you're just going to make a quick stop, as you can just apply one of the brakes.
The stroller's made with a lightweight steel frame. The overall weight of the stroller is about 26 pounds. Now, this is much more than a regular stroller, but you have to remember that you have much bigger tires and you need a bigger frame to support that. Still, at 26 pounds, this is one of the lighter ones on the market.
Easy folding: Folding this lightweight stroller is a breeze, as it features a trigger fold that easily folds the stroller in half in a compact unit. You just pull the two triggers on each side of the handle and the stroller will fold in half, and then it can be locked into place. It does stand on its own as long as all three wheels are touching the ground.
The stroller features a lot of great safety features. For starters, it's got a fully adjustable 5 point safety harness for the kid. This 5 point safety harness is a bit complicated to buckle, but it's very secure. The stroller also features a tether strap for the parent to hold onto while running. This means that you won't have a runaway stroller going downhill. Another safety feature is the footrest reflectors. This means that if you're going for an early-morning or late-night jog, everyone will be able to see you and your stroller.
Some comfort features included are a seat that can recline to many different positions, including flat, and an adjustable canopy with a peek-a-boo window. The handle is extra wide and ergonomically shaped. It's covered in a soft rubbery material that provides good grip during a run while also providing comfort. These features will come in handy across the life of the stroller, which will last you until your kiddo reaches 50 pounds.
The Expedition Jogger Stroller has no shortage of storage. For starters, it has a parent tray that has two cup holders and a covered compartment. There's also a child tray that has two cup holders. This tray also doubles as the adapter that allows the car seat to click in. There's an extra-large storage basket underneath that fits a lot of items, including a larger diaper bag. It's also easy to access.
Why It Won
The Baby Trend Expedition Jogger Stroller travel system won because it has the best design and collection of features of any jogging travel system on the market. I discuss this later, but just because this is the best jogger travel system, doesn't mean the stroller is necessarily the best jogging stroller.
The ride: This stroller offers a really smooth ride. I think it's because it has bigger wheels than a lot of the other jogging stroller travel systems on the market. With bicycle tires like these, you do have to be aware that you will have to eventually fill them with air. My suggestion to you is to just go get inner tubes and some of that tire slime and just fix up your tires from the get-go. You'll have to do less maintenance and you'll find that you have an even smoother ride from the beginning.
Lightweight: Another big determining factor why this was selected is because it's lightweight. It's about 5 pounds lighter than the other strollers I looked at across the board. This is good because when you're running, you don't want to be pushing a 50-pound stroller. And when you're getting this thing in and out of your trunk, you don't want it to be heavy. Since it's a jogging stroller, it's already bulky, so you don't want to add any weight. And this stroller certainly doesn't.
Plus, being so lightweight makes it a lot easier to open and close then other joggers. You really can open and close this stroller quickly and easily. You can't quite do it one handed because you have to pull both triggers, but otherwise, it's quite simple to do.
Another reason this system won is that when I was using my friend's, I noticed that it has some amazing little features. For example, you can get the car seat canopy and the stroller canopy to truly meet up in the middle so that you can completely cover your baby. This is so awesome when your baby is a newborn. My own travel system didn't do this, and I was always having to throw a blanket over the top to fill in the crack between the two canopies so the baby wasn't blinded by the sun. That may seem like a small detailed to some but it's a big deal if you use the stroller a lot outside.
The other little things like the storage compartments, the safety tether, and the light reflectors made me feel safer about my little one being in the stroller. I also felt safe about baby being in the car seat. Now, my friend always told me how much she hated the pillow that came with the car seat, since it made her preemie baby sit at a weird angle. But once she got a different pillow, she loved the car seat and her baby would sleep like a champ in it.
I do love the Flex Loc. It's handy and it's unique. But one thing to be aware of is the fact that sometimes the base is tough to get tight. You have to put all of your weight on the base of the seat and pull as hard as you can on the straps to get them as tight as possible. Once you do get it strapped down as tight as you can, it's really safe and secure. Plus, the way the Flex Locs are shaped makes it really easy to actually click in and out of the anchors.
Now on to the one downright bad thing about this system. Like I've already mentioned, the harness system of this car seat is extremely difficult to use at times. Since you have to align the two bottom buckles on top of each other in order to click them into the bottom part of the buckle it can be really hard to do one-handed. It's extremely hard to do if your baby is fussing and moving around. But it isn't impossible, and it's probably a matter of getting used to it more than anything.
I love the handle. I'm fully convinced that the delta shape is so much easier and is a great design that every car seat should have. However, for this particular car seat, it can be really tricky to move the handle up and down. When you push the two release buttons on each side of the handle to move out of the way to get baby in and out, you have to really use your muscles to push those buttons in and shove the handle back. My friend assures me that this problem disappears over time, once the buttons get broken in.
Overall, this system offers a great quality product at a really affordable price. You don't have to pay an arm and a leg to get a good jogging travel system. I've personally run with this, and I can say that it won't disappoint you on the trail, on the street, or at the store. It maneuvers like a dream and is lightweight. The car seat is really good, too. You can easily click the car seat in and out of the base and in and out of the stroller for added versatility.
This travel system has extremely good value.  It's got most of the same features, the same level of durability, and about the same customer satisfaction ratings as some other systems that cost literally double or triple what this costs.  So while I'm usually a pretty big proponent of spending a little extra on baby gear to get something nice, this is a case where you don't have to spend the extra money to get something nice. For the price, this system can't be beat.
Now, I want to throw in a quick disclaimer that this isn't the best jogging stroller that I've ever used. That honor belongs to the BOB Revolution stroller that doesn't come as a travel system. So while you are getting a good jogging stroller and a great car seat with the Expedition travel system, this probably isn't the best jogging stroller on the market if the travel system part isn't important. I would recommend the Expedition for someone who's going to jog occasionally or has to go somewhere outside of their own neighborhood to jog. Because then, you really do need to have the car seat and the stroller combo.
Graco Fastaction Fold Jogger Travel System
Runner Up: Graco Fastaction Fold Jogger Travel System
At this point, you're probably wondering if Graco is secretly paying me to give all their products rave reviews. While I wish they would, they aren't. I have simply compared Graco products to other products and they hold their own. This jogging travel system is no exception. It's gotten outstanding reviews on many websites. And while I haven't had the pleasure of actually touching the system on my own, I've watched lots of videos and read thousands of reviews to get a good bearing on this travel system.
The Car Seat: Graco SnugRide Click Connect 35 (yes, again)
The SnugRide comes with all of our Graco travel system picks. Here is a quick repeat of the specs of the  Graco SnugRide Click Connect 35 infant car seat:
Holds infants from 4 to 35 pounds, and up to 32 inches
Click Connect technology means you click it in and out of its base and in and out of the stroller, or any other compatible stroller
Weighs only 7 ½ pounds
Base connects to vehicle with latch connector straps for added security
Meets or exceeds all US car seat safety standards
Made with EPS foam for safety, and has particularly good side impact protection
5 point safety harness with one hand adjust system
Large canopy to protect baby from the sun
Removable infant support pillow
The Stroller: Fastaction Fold Jogger
Graco calls this a crossover stroller. They claim that it "combines all the comfort and convenience features of a traditional stroller with the performance of maneuverability of an all-terrain jogger." And that's exactly what it does.
It's got a lot of the same features as the Baby Trend stroller, starting with a lightweight design. This stroller weighs in at 30 pounds. That makes it quite a few pounds heavier than the Baby Trend Expedition jogger stroller.
In addition to being somewhat lightweight, the stroller also features air-filled rubber tires for a smooth ride. The tires of the stroller are the same size as the tires on the Baby Trend stroller: 16-inch tires in the back and a 12-inch tire in the front. The bicycle-type tires provide great suspension and a smooth ride.
The front wheel is lockable so that you can have swivel for maneuverability, or a locked wheel for stability. It also has two-step brakes. This means that you have to break each side individually, just like the Baby Trend stroller.
The fast action jogger has fast-action fold. It's supposed to take one second and be done with one hand. This is entirely true. This means that you simply pull handle in the seat of the stroller and pop! The stroller folds in half instantly. It also locks while folded and is self-standing.
For your baby's comfort, there's a convertible 5 point safety harness to 3 point safety harness. This is nice, since baby can stay in the stroller until they reach 50 pounds. There's also a multi-position reclining seat that can recline to be almost all the way flat. It's got a large canopy that's extendable and has a peek-a-boo window. It also has reflectors on the rear tires for added visibility while running in the dark.
All the extras: This stroller has more than sufficient storage. It's got a child snack tray, that features a little snack compartment and 2 drink holders. The snack tray easily swivels out of the way so that you can get your child in and out fast, and also acts as the adapter for clicking the car seat in and out. It has a parent storage tray with 2 cup holders and a covered storage compartment. On top of the storage compartment is a smartphone holder. Depending on what phone you have you may or may not be able to get your phone to fit in this holder. Finally, there's a storage basket underneath that's a decent size. You can certainly fit a diaper bag and maybe a couple of other essentials in it.
Baby Trend Expedition vs Graco Fastaction Fold Joggers Compared
If you look at the strollers side by side, they look nearly the same. And they certainly have a lot of the same features.
Both of these strollers feature large bicycle tires for great suspension, a smooth ride, and easy maneuvering. Both of the front wheels can be locked for added stability while jogging. Both of the strollers have separate brakes for each tire in the back.
The strollers both have large canopies, 5-point safety harnesses (although the Graco one can convert to a 3-point harness for older babies), and some sort of reflection for safety. The Baby Trend stroller does come with a safety tether, which I didn't see on the Graco model. The Baby Trend also has a more grippy handle, which I personally like better when jogging.
Both strollers have a child snack tray with 2 cup holders and a place to put treats. Both strollers have a parent compartment with 2 drink holders and a covered section. Both strollers also have a large storage canopy underneath for taking along everything you need. I think that Graco has slightly nicer storage items, since their lower basket is larger, and their upper compartment does feature that handy phone holder.
When it comes to folding the strollers, Graco wins by a decent margin. Their one second, one-handed Fastaction fold is fantastic. It is certainly much easier than pulling the two triggers on the Baby Trend stroller. However, both of these fold up really compactly for a jogging stroller. They both have a locking fold and they both stand on their own once locked into place.
Both of the car seats are pretty basic models. The biggest difference is probably the Flex Loc latch connectors on the base of the Baby Trend car seat. These are definitely more user-friendly and a bit nicer to have. Also, the Baby Trend car seat features that delta shaped handle which, is just a wonderful convenience feature for moms and dads.
The car seats are a lot different in their clicking and release mechanisms. Both of the car seats click into the strollers and into the bases, but how you release them is a bit different. On the Baby Trend car seat, you have to pull the lever at the feet of your baby, as opposed to the Graco car seat, where the release lever is at the head of the car seat. This is probably just a matter of which one you prefer. I think I could get used to doing either one. I know that when we're using my husband's smaller car, having the release lever at the foot of the car seat would probably be a little bit more user-friendly since we're low on space.
Price is the big difference: So then if everything is so similar about these two systems, why do I pick the Baby Trend? Because it costs literally half of what the Graco system costs. As you can plainly see, there's nothing on the Graco stroller that the Baby Trend stroller doesn't also have. There are slight differences here and there, but there is no difference big enough for me to justify a doubling of the cost.
If I had to spend my hard-earned money on a jogging travel system, I would go with the Baby Trend. I know that I would get a nice car seat that's safe and easy-to-use. I would also get a jogging stroller that has all of the basic features that I could want. It would have great tires, great maneuverability, fun features like storage, a canopy and extra safety features. I would be getting all of this at a fantastic value. The Baby Trend Expedition Jogger Travel System certainly wins when compared to the Graco Fastaction Fold Jogger Travel System.
BOB Rambler Travel System
Bonus Jogger Travel System: BOB Rambler Travel System
I won't take a bunch of time to talk about this system, because it's for serious runners only! I'm talking training for a marathon, 7 miles a day type running. But it's so fantastic that it's certainly worth a mention on this list.
The setup is pretty simple. There's a car seat, an adapter, and the stroller. The car seat is actually a Britax B-Safe 35 infant car seat. I already reviewed this seat earlier, so read above for the nitty gritty details.
As for the stroller, I won't go into a ton of details. Here's the outstanding features:
75 lb weight capacity
Mountain bike style suspension
Locking front swivel wheel
12 inch air filled tires
25 lb aluminum frame
Easy fold (can even remove wheels to make smaller!)
Linked rear parking brake
Hand strap for safety
Padded seat with 5 point safety harness and recline
HUGE UPF 50+ canopy with peek-a-boo window
Under child storage basket
This stroller is wonderful. As a runner/hiker/walker/generally super active person, I can't sing its praises enough.
So why didn't it win? The answer is price. This system costs roughly the same amount as a car payment for a luxury car. That's just too much for me!
Now, you can slightly justify it because you can use the stroller up to 75 pounds,which is the size of a 2nd or 3rd grader. And because of the quality, it would probably actually last that long. But by that age, you don't need to push your kid around. That's why I chose less expensive strollers with slightly shorter lives as winners.
However, if you have the money and are serious about running, please DO NOT hesitate to get this system, because you'll get a very safe car seat and base, together with a top-of-the-line jogging stroller.
Other Travel System Reviews
Here are a few additional travel systems we have reviewed:
How I Picked
How would you pick a travel system? If you're anything like me, then you'd probably spend hours and hours online pouring over reviews from a bunch of different sites to try and weed out which travel systems are the best. You probably go to your local Target or Toys R Us and test out a few travel systems in person. You'd probably ask around and talk to all of your mom friends to see what they use and what they like and don't like about it.
Well, that's exactly what I've done here. I have looked at all of the big websites, from Amazon to Target to Toys R Us and beyond. I have spent hours reading through each and every customer review to see what people have to say about these travel systems. I've even looked at the strollers and the car seats separately and looked at their reviews to see what people say about them on their own.
I have so been that lady in the middle of Target playing with a stroller. I have let my son push them around and even set my baby in a car seat or two. This is all done in the name of research. Because, if at all possible, the best thing to do is actually get your hands on a travel system. Looking at pictures and videos is one thing, but actually using and manhandling the stroller and car seat is another thing altogether.
I've talked to all my mommy friends to see what they like and don't like about their current travel systems. The mommy friends that I'm close enough to would let me try out certain features, like folding the stroller or clicking the car seat in and out, or buckling their baby in and out. I'd ask them what they would change about the stroller and car seat, and what they love. I'd ask them if they had to do over, would they buy that system again?
Basically, as part of my review process, I've done everything that you would do. I've done all the footwork for you, so that all you have to do is sit back, read my reviews, and decide for yourself if you like these top travel systems just as much as I do.
What I Looked At
It's not easy to choose a travel system. Although it seems like such a straightforward purchase, it's actually not. There's many parts and pieces to consider and you also have to consider how they all work together. So, here's just a summary of what I look for when choosing the best baby travel system.
The Car Seat
I think the car seat is arguably the most important part of the travel system. It's what you need to keep your baby safe whether or not you'll use the stroller. So when I look for a good travel system, I look for a reliable and well-tested car seat. It has to meet or exceed all standards, and be completely safe for my child. I look for a car seat that can be installed with the base and a latch system, or without a base using the car seat belt for when I'm traveling. I also look for a car seat that has high weight and height limits, as it means my child can stay in it and stay rear-facing for longer.
The Stroller
The stroller, while probably not quite as important as the car seat, still is extremely important.
Mobility: You want a stroller that can go where you want to go. Now, this depends on what you do a lot. If you are active and you like to exercise a lot, whether that be going for walks, going for runs, or even taking your stroller on a trail, you definitely need a jogging stroller. A traditional stroller just won't cut it for you.
However, if you don't plan to exercise while pushing your baby, you don't need to get a bulky jogging stroller. You could stick with the traditional stroller and be just fine.
Stroller category: And when it comes to regular strollers that aren't created for exercise, you have a couple of options. You can go with the traditional, 4-wheeled stroller, or, you can go with the newer model 3-wheeled strollers. The biggest difference in these is going to be stability and maneuverability, as well as weight and size. Also, it usually comes down to personal preference.
Range of features: Once you get past the different types of strollers, I look for other features in my strollers as well. I look for tires that have good traction, good maneuverability, and a nice long life. Even if the tires are air-filled, I want them to be stable and not have to fix them constantly. And if they're made from plastic, I want them to be a thick and sturdy plastic that's not going to get tore up quickly.
Storage: I also look for a stroller that has good storage underneath the seat. Since you're always hauling around gear with you and your kids, this is a must-have!
I look for strollers that have snack trays for both mom and child. Making sure that my kiddo can have a snack and drink when they need it and that I have a place to put my drink and keys and phone and snacks is very important to me. I love Britax strollers, but they always let me down in the storage category because of the lack of a child or parent tray. Like the Britax B-Free stroller– amaizng underseat storage, but nothing else!
The canopy: Another thing I look for in a good stroller is a really good canopy. I prefer a canopy with a peek-a-boo window, as I like to be able to keep a sneaky eye on my child. I also like a canopy that extends far out so that it shades them from rain or sun. This feature is really important when you have a newborn, and it still is important when your child gets older, because they get vocal about things like sun and rain in their face. one of my all-time favorite canopies is on an incredible stroller called the Joovy Ballon. You have to see it- it's huge!
Braking system: The final thing that I like to consider when looking at a stroller is the braking system. Some strollers have single braking systems, while some of them have a bar braking system, while still more have a hand brake system. Again, this is probably personal preference. I personally prefer either a handbrake or a dual braking system with a bar. Single brakes are fine, and they serve their purpose, but I just feel like they're a hassle. I personally want a braking system that's really easy for me to use and does it require me to crack a toenail every time I want to park my stroller.
Using Them Together
Good car seat? Check. Good stroller? Check. But what about them together? Sometimes it's really easy to get caught up in looking at the parts of a travel system, and not thinking about how well they work together.
For example, there are a lot of car seats and strollers that you can make into a travel system on the market, but they aren't designed that way. You have to use adapters or other special tools to make it work as a travel system. When it comes down to it, that just doesn't make it very user-friendly on a day-to-day basis. It also makes it harder on your wallet. I want a car seat that I can use as a car seat and as a piece of the travel system. I also want a stroller that I can use with or without a car seat. And I don't want to have to remember extra parts and pieces to use either one of the parts of a travel system on its own.
I look for a travel system where the car seat easily clicks in and out of the stroller. I don't want it to be a 10-step process. I would prefer 1 or 2 steps that can easily be done.
You might want a car seat and stroller set up that is compatible with more than one brand of car seat. For example, I love this Inglesina USA Triolgy lightweight stroller, but it's only compatible with a couple of expensive and hard-to-find car seats from one brand. I prefer the Uppababy or Britax approach, where you can mix and match from a few different car seats. Check out two travel systems that have multi-brand compatibility in our Britax B-Ready vs UPPAbaby Vista review.
And speaking of more than one car seat, check out tandem travel systems. If you have more than one child, these strollers are amazing! Most of them work as a travel system for your baby, while your bigger kid gets a seat somewhere else on the frame. I personally think that these strollers are smart for parents who might someday extend their family, or for those who already have a couple of kids to tow around. Check out our Britax B-Ready vs UPPAbaby Vista article to see 2 of my favorite tandem travel systems. Or, if you like more high-end items, be sure to check out the Baby Jogger City Select stroller in our Britax B-Ready vs City Select stroller review.
A Good Value
The last thing I look at when choosing the perfect travel system is a good value. Notice that I said a good value, not a good deal. There might be travel systems on the market that are really cheap, but you're probably going to get what you pay for. You'll probably get a system that's not going to hold up and won't have as many features as you want or need.
And while I don't believe in just purchasing a cheap travel system, I also certainly don't believe in spending oodles and oodles of money on a car seat and stroller. Especially because your baby is probably going to outgrow that car seat right around the one-year mark.
So, to me and my family, who are on a tight budget, we just can't justify spending hundreds and hundreds of dollars on a car seat and stroller combo that really will only get used together for one year. Of course, you're going to use the stroller a lot longer than one year, since most strollers will accommodate children clear up until they're into preschool.
So like I said, that's where you find the balance of getting a good stroller and car seat for your money. You want a car seat that is safe and effective, but not expensive. You want a stroller that has all the bells and whistles you desire, without costing a ton.
Price is certainly a factor that I'm going to look at across all of the things I review. And if an expensive item is worth its weight in gold (literally), then I'll let you know. And if the cheap item is cheap for a reason, I'll let you know. Otherwise, I'm going to try and find you great products with great value.