Baby formula is the next best alternative to breast milk, but which is the right one for your child?
It's time to choose formula milk for your little one, and you're absolutely overwhelmed with all the choices that stare back at you. A great starting point would be to look into Gerber Good Start and Enfamil. They provide the nourishment and nutrients your growing child needs. Both Good Start and Enfamil are a great alternative for breast milk. I lean towards Enfamil because Gentlease was the only one that would soothe my colicky infant.
Read Enfamil or Similac if you are interested in how Similac compares as well.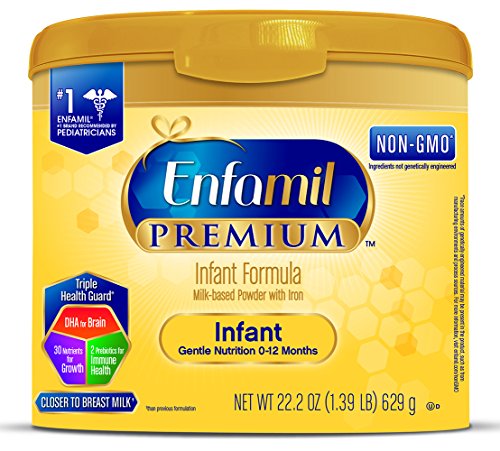 Gerber Good Start and Enfamil in a Nutshell
Gerber is a baby's best friend, and you can see they have done their best to provide all the required nutrients in their formulas. Not only that, but they also have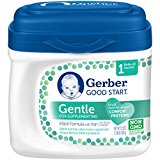 many options available for infants with fussiness, lactose intolerance, and CMPA. I have faced some issues with their powder formula in the past when it clumps together and doesn't dissolve all the way. Other times it tastes the same but has a kind of fishy smell to it.
Did I mention that all their products are non-GMO? Huge win for Good Start!
Although my little one loved both Gerber and Enfamil, she was a colic baby and needed something easier to digest. At that time, she instant took a liking to Enfamil Gentlease, so I eventually started using it solely. Plus, I was a working mother who traveled a lot, and traveling with loose formula was a big no for me, so the single-serve sticks that Enfamil had were a lifesaver. You could say convenience and my infant's tummy's liking to the formula made me tilt towards Enfamil. Not a fan that they have GMO options, though.
Overall I believe Gerber Good Start and Enfamil are equally good when it comes to providing nutrients to your little one. Both of them have a variety of formulas for almost every type of situation an infant might be facing.
It's always a good idea to take a quick peek, just in case you see something that relates to your child. I'll quickly go through all that they have and what works in each one.
Gerber Good Starts
Gerber is a known brand for baby foods, and it's no surprise that many people prefer its formula for the trust that they have in the brand. Plus it's much more economical. Best of all, it contains no genetically engineered ingredients.
Gerber has defined each formula set for different aged babies so you will see Stage 1, Stage 2, and Stage 3 on their formulas. The stages are defined as:
Stage 1: Birth to 12 months
Stage 2: 6 – 12 months
Stage 3: 12 – 24 months
Gerber has many variants when it comes to baby formula. Starting off with mothers who are breastfeeding their infants and need to supplement, Gerber has Good Start Gentle for Supplementing Stage 1. It's much easier to digest and contains iron, which is normally recommended for breastfed babies.
For babies who are purely on formula, Gerber has Good Start Gentle for Tiny Tummies Stage 1. This is the only formula that they make that is the closest to breast milk. It's very similar to Good Start for supplementing moms, except it has increased vitamin D levels and prebiotics added in. In fact, it is considered to be the only formula that has a blend of Docosahexaenoic Acid(DHA – a fatty acid that helps the child's vision, brain, and overall body development), prebiotics, and probiotics.
Gerber also has a similar formula for children who have been introduced to solids. Breastmilk keeps changing according to your babies' needs, and Good Start Gentle 2 tries to simulate that next phase of breastmilk – Stage 2. It basically differentiates itself from Stage 1 with a different composition of protein, carbohydrates, fat, and others.
Gerber has a sensitive tummy line known as Good Start SoothePro. Many babies at this age don't have their digestive tracts fully developed, so they face tummy issues. Soothe contains a stomach comforting probiotic L.reuteri as well as a carb blend with only 30% lactose to help ease fussiness and gassiness.
For lactose intolerant babies, Gerber has Good Start Soy for Stage 1 and Stage 3 which are made from soy proteins to ease digestion. This formula is totally lactose and milk free.
For infants with allergens, Gerber has a completely hypoallergenic formula called Gerber Extensive HA for Stage 1. It helps manage cow's milk protein allergy (CMPA), which occurs when an infant's immune system reacts to the proteins in cow-based milk. Always consult a doctor before making any such changes since you want to be sure you are making the right decision for your little one.
Enfamil
Enfamil is a leading baby formula brand that's highly recommended by doctors and hospitals alike. It's priced a little higher than a lot of the other brands on the market, but if it suits your child, then it's well worth it.
Enfamil has different stages and ages defined on its formulas as well. Mostly you will see:
Newborn stage: 0-3 months
Infant stage: 0 – 12 months
Toddler stage 2 & 3: Enfagrow 9 months – 3 years
Enfamil Enspire for Newborn and Infant stages, closely mimics breastmilk and includes all the good stuff such as MFGM and Lactoferrin (a protein that occurs in high amounts in breast milk and especially in colostrum), pre- and probiotics, essential vitamins and best of all lactose is the only sweetener as opposed to any corn-based ingredient. It is on the pricier side, though. This is only available as a non-GMO option.
Enfamil Reguline for Newborn and Infant stages is a blend of good bacteria and has a clinically proven blend of 2 prebiotics that helps promote healthy digestion. It's a solution to help promote comfortable stool for the baby. It also contains all the great nutrients also found in breast milk, so overall, a win-win.
Enfamil A.R. is a variant for Newborn and Infant stages who go through spit-ups. Its formula composition includes Natural DefenseDual Prebiotics Blend for digestive health, which helps in reducing spit-up. It's a solution to adding rice cereal in the formula for parents who do that to help reduce spit-ups.
For tummy troubles, Enfamil has a soy-based formula Enfamil ProSobee for Newborn and Infant stages. This is for those little tummies that have gas and fussiness caused by milk-based formulas. Similarly, for other fussiness and gassy babies, Enfamil Gentlease for Newborn and Infant stages has been a lifesaver to mothers since it provides all-around nutrition without the bloating or gassiness.
with Enflora LGG helps manage colic due to cow's milk allergy. The small proteins help with digestion as well as includes all the key nutrients to help promote proper brain and vision development.
Pros
Good Start:
non-GMO formula
A lot of variant for changing babies needs
Affordable
Has a liquid concentrate formula where you need to add water
Enfamil:
Have non-GMO options
Many variants for issues babies feel early on when their digestive systems are developing
Single-serve sticks for ease of travel
Recommended by doctors and hospitals
Cons
Good Start:
Clumping issue
Sometimes has a fishy smell to the formula
Packaging quality issues when delivered through mail
Enfamil
Expensive
Has GMO based formula
Packaging quality issues when delivered through mail
Reviews
Good Start:
4.6 stars,136 reviews – Walmart.com
4.8 stars, 92 reviews – Target.com
4.6 stars, 146 reviews – Walgreens.com
Enfamil:
4.5 stars, 667 reviews – Walmart.com
4.5 stars, 659 reviews – Target.com
4.4 stars, 636 reviews – Walgreens.com
What you need to know about formula
Formula milk is a healthy alternative to breast milk. With advancements in research, baby companies have improved formula milk to mimic the constituents of breast milk. This helps in supporting the growth and development of your little one.
US Food and Drug Administration (FDA) regulates all baby formula. They help ensure that any formula that gets out in the market provides adequate nutrition. The basic formula mix generally contains minerals, vitamins, proteins, fats, and carbohydrates. The standards guarantee that the formulas in the market are free of pathogens, tested for final nutrient content, and should demonstrate that they support the normal physical growth of the children.
With FDA's backing, the formula milk products are let loose in the market. Generally speaking, you will see that there are primarily 3 types of formula:
Powdered form (needs to be mixed with water before feeding)
Ready-to-feed (requires no mixing is ready to drink)
Liquid concentrate (requires mixing with equal amount of water
So what should you give your baby?
Honestly speaking, both formula brands are equally good. Since they are, FDA approved you know their ingredients hold nothing but great nutrients. Some may include little extras that you can pay a little higher for if you like that is completely up to you.
A lot of the time, it depends on your little one as well. Despite having almost the same ingredients, the baby may prefer one to the other. If budget is not an issue, then no harm in going for Enfamil non-GMO. I'm a strong believer in non-GMO foods, so that's a personal preference, which is why I love that all of Good Start formula is non-GMO.
Gerber Good Start Gentle Powder Infant formula is the more pocket-friendly option, and lactose as a sweetener is 70% corn-based maltodextrin being the secondary sweetener. Taste-wise and composition-wise Good Start is equally good.